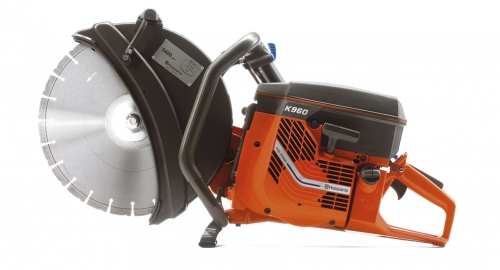 Manufacturer: Husqvarna
Model Number: K960
The new Husqvarna K 960 is our latest and most powerful handheld power cutter, featuring the revolutionary X-Torq® engine technology. It is a unique machine, in a class of its own when it comes to emission levels, efficiency and manoeuvrability.
DEX - The new Dust Extinguisher System that gives cleaner cutting with less water usage and slurry.
X-Torq® - Engine with X-Torq® produces 75 % less emissions, 20 % lower fuel consumption and more power.
Active Air Filtration - Centrifugal air cleaning in three stages, increases product life and extends service intervals.
SmartCarb™ - Built-in automatic filter compensation, maintains high power and lowers fuel consumption.
DuraStarter™ -Patented dust-sealed starter attachment, where the return spring and the pulley bearing are sealed.
EasyStart - Ensures 50% easier starting by reducing the compression in the cylinder during starting.
Wet cutting kit - All our cutters feature our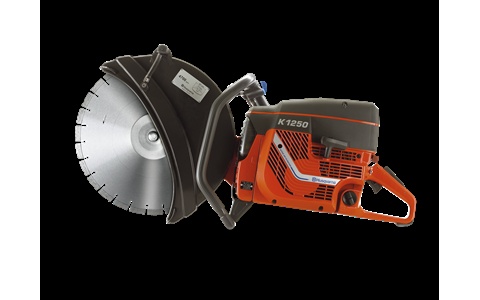 Manufacturer: Husqvarna
Model Number: K1250
When it comes to handheld gas-driven cutters for demanding jobs, with blades up to 16" and cutting depths up to 5.7", our largest model, the Husqvarna K 1250, is in a class of its own. Despite a large and powerful engine, this brawny, full-size machine is surprisingly easy to operate. The Husqvarna K 1250, with an impressive 5.8 kW output, is the market's most powerful cutter, and can easily drive 16" blades.
DEX - The new Dust Extinguisher System that gives cleaner cutting with less water usage and slurry.
EasyStart - Ensures 50% easier starting by reducing the compression in the cylinder during starting.
Wet cutting kit - All our cutters feature our robust wet cutting kit, with low water usage.
Active Air Filtration - centrifugal air cleaning in three stages, increases product life and extends service intervals.
SmartCarb™ - Built-in automatic filter compensation, maintains high power and lowers fuel consumption.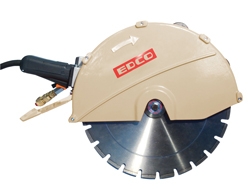 Manufacturer: EDCO
Model Number: TP400
FAST, ECONOMIC, EASY DUST-FREE & PRECISE
•Can be plugged into regualr 20AMP outlet
•Designed for wet cutting concrete and masonry
•Equipped with the most powerful motor in the electric hand-held saw industry
•No hydraulic hoses and fluids to deal with, no exhaust fumes and gasoline to deal with

Equipped with the CARDI Smart Protection System
•Soft Start Motor - ensures smooth and safe start
•Mechanical Clutch - protects operator when jamming
•Electronic Clutch - protects motor and operator in case of overload