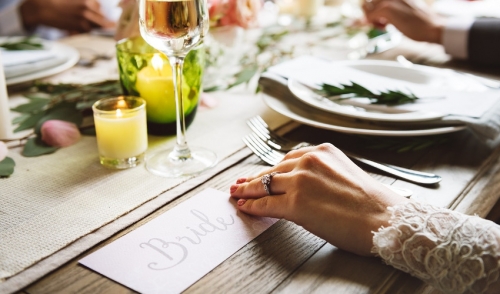 Getting engaged is an exciting step in a couple's relationship, and it is natural to want to celebrate that step with family members and friends. An engagement party can be a fun way to spread the word of an engagement as well as start bringing together everyone who will support the couple as they build a life together. These tips can help you plan a fun engagement celebration with ease.
Why Have an Engagement Party?
There are many reasons why a couple may want a party to celebrate their engagement. It is a great opportunity to share the announcement of their engagement, perhaps even surprising party guests with the actual proposal, a fun reenactment or a big reveal. A party is also a chance to bring together both families as well as close friends who will be part of the couple's wedding planning and special day. This can let everyone get acquainted before the full scale planning begins, which will help all the wedding planning go more smoothly.
Who Should Throw an Engagement Party?
Anyone can throw a party to congratulate the happy couple, and even the couple themselves may choose to plan an engagement party. If the couple is throwing the party for themselves, it should generally be a lower key, more casual affair. If the parents of the prospective bride or groom prefer to arrange the party, it might still be a casual event or could be more formal. Both sets of parents may wish to coordinate together for a larger party, or there may even be two different parties if it isn't possible to bring both sides of the family together for one event. Neighbors, friends or coworkers might even decide to throw a party for the happy couple.
Planning a Fabulous Engagement Party
Like any big event, planning an engagement party takes coordination and consideration to be sure the celebration comes together smoothly. While there is great variation in the arrangements that can be made for an engagement party, these tips can help bring the event together for a fun and joyous occasion.
Date
The engagement party date should be no more than 2-3 months after the couple commits to their engagement, and should happen long before the wedding date. No other wedding events – bridal shower, bachelor party, etc. – should occur close to the engagement party.


Location
An engagement party can be held nearly anywhere, from a casual affair at home or a favorite restaurant to a hotel ballroom, local park or event center. For a themed event, consider more unique venues such as a skybox for a sport the couple enjoys together or a college campus where the couple first met.


Theme
It can be fun to have an engagement party theme. A theme could be as simple as the event's level of casualness or elegance, or might be specialized to something the couple shares, such as a favorite movie, first date or hinting at the possible theme for the wedding or honeymoon.


Guest List
The guest list for an engagement party can vary, but should be significantly smaller than for the wedding itself. The exception is if the couple is planning a very intimate destination wedding or other specialized event for their nuptials, and the engagement party is an opportunity to celebrate with more friends and family members. Ideally, everyone invited to the engagement party will generally be invited to the wedding as well.


Menu
There is no limit to the creativity of the menu for an engagement party. A casual event might include pizza, barbecue or sandwiches, or a couple might opt for a menu of finger foods or appetizers to suit different tastes. A more formal event might include a buffet or even a served dinner if desired. The one thing that shouldn't be on the menu, however, is a cake as large or elaborate as the couple's wedding cake will be. Cake can be a fine dessert, but it should be simpler for an engagement party.


Decorations
An engagement party can be as elaborately or sparsely decorated as desired. A more casual event might not have any more decorations than a banner with the couple's names or a few floral arrangements, while an elaborate party might have decorations similar to the wedding itself. Couples on a budget might want to consider engagement party decorations that can be repurposed and reused as part of their wedding décor.


Invitations
Engagement party invitations can be printed and formal, but many couples opt for electronic invites for a more casual celebration. Using social media account such as a Facebook page can also be a great way to invite guests and keep everyone connected as the wedding planning progresses.


Activities
While a wedding and reception have expected traditional activities – parent/child dances, cutting the cake, tossing the bouquet, etc. – engagement parties have fewer well-known activities. The event could just be a casual get-together without planned activities, or there could be getting-to-know-you games and icebreakers. Lawn games, short toasts or collecting wedding planning tips from married couples at the party can all be fun options.


Gifts
Couples should not expect to receive engagement gifts, and it is poor manners to register for gifts so early in the wedding planning stages. Some guests may want to give the couple a token of happiness, however, and it is best to always be gracious. If couples are asked about registries, they can simply reply that they haven't set one up yet, as the wedding is still months away.
Most important is for a couple to enjoy the early stage of their engagement and the building excitement as their wedding day approaches. An engagement party can kick off the fun as the couple starts to plan their special day, and is a great way to remember all the joy, love and excitement that leads to the wedding.